What is a Chatbot?
A Chatbot is a computer program designed to simulate a conversation with human users, especially over the Internet. The evolution of artificial intelligence has now taken a full swing and chatbots are only a faint splash on a huge wave of progress. Chatbots can now be programmed to respond the same way each time, to respond differently to messages containing certain keywords and to use machine learning to adapt their responses to fit the situation.
Get Wowed By a Very intelligent Chat Assistant Here
These Chatbots leverage chat mediums like SMS text, website chat windows and social messaging services across platforms like Facebook and Twitter and directly on Website, Blogs, Online Stores or any Online Presence.
They usally come in several forms. There are business bots for satisfying customers. Facebook recently released a host of data proving the value of bots for business: A typical example of Chatbot that is Optimized for businesses, Marketers and Bloggers, etc is ConversioBot.
2 billion messages are sent between people and businesses monthly
56% of people would rather message than call customer service
53% of people are more likely to shop with businesses they can message
There are also some fun and goofy chatbots like Cleverbot, a chatbot that chats with real people and learns as it goes.
While they have been around for a while, the utilization of chatbots has certainly gained momentum in the last few years. Data from Google Trends shows over the last five years, search volume around "chatbots" grew 19x as individuals and businesses began to realize their value.
But the questions then become: What types of business bots exist? How do bots save time and create a better experience? What do end users want to achieve when using these bots?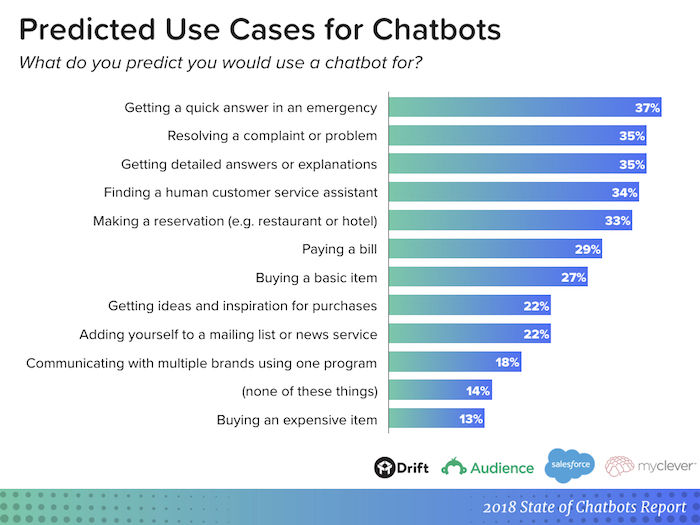 There are different responses because individuals are messaging chatbots for many different reasons. However, the key things your customers want from chatbots are:
To get a quick answer to questions
Resolve a complaint or problem
Help get a more detailed answer to a query
Finding a human customer service agent
The data shows that you need to start leveraging chatbots to streamline customer communications, success, and sales. However, chatbots aren't just convenient for your consumers, they're also great for your business.
Think you're ready to start building chatbots? Learn how Conversiobot can help do just that and allow you to build from scratch or use pre-defined Chatbot templates to automate your sales and engaegement process
The Importance of Chatbots
A very easy way to remain competitive in modern business is to automate as many of your processes as possible. Evidence of this is seen in the rise of self-checkout at grocery stores and ordering kiosks at restaurants.
In fact, Amazon just opened a store without any cashiers or self-checkouts, limiting human interactions to those only absolutely necessary.
The value in chatbots comes from their ability to automate conversations throughout your organization. Below are five key benefits businesses actualized when using chatbots.
1. Engage Customers to Better Outcomes
Customers don't always know where to go to find the information they're interested in. In fact, your customers may not even know what it is they're interested in. Maybe they just heard your brand name in passing and decided to explore. By asking a series of qualifying questions, you route users to the best place for them to find the information they want.
Think through some of the questions to ask that will route your visitor to the best possible solution. These questions vary by business type, but some common ones are:
What problem are you trying to solve?
What are your goals?
Where are you located?
What department are you in?
What industry are you in?
Would you like personal support?
Imagine a global organization such as an airline. Between departing locations, arrival locations, potential upgrades and a myriad of places to purchase tickets, there are an almost infinite number combinations for purchase.
By personalizing the questions a chatbot asks those airlines direct customers to the best way to buy and create a better user experience.
This seamless user experience makes the painstaking process of planning a trip much easier for both the user and the business.
4. Save Time & Money
By automating conversations that would otherwise require an employee to answer, organizations save time and money that can then be allocated to other efforts.
Instead of having your reps spending all of their time answering inbound questions, those individuals reallocate time to proactively finding relevant conversations to join. You will save countless hours by automating responses with a chatbot.
2. Provide Adequate Support
Fast and 24/7 Response is what businesses dream but unless you have a very big budget and Staff it can be impossible. Organizations that don't offer 24-hour support won't provide answers when the office is closed.
By using a robust chatbot when your business is closed, customers still gain access to the information they need.
This is especially important as consumers expect a quicker response than brands can actually guarantee. According to reports customers expect a response between 0-4 hours. However, brands typically take 10 hours on an average to respond .
Chatbots help you significantly decrease the average time to respond, bringing you closer to your customers' expectations.
3. Generate Leads & Increase Revenue
Chatbots use direct messages to gather information necessary to provide effective support. For example, asking users why they're visiting your page is one question that is likely asked in every engagement.
Automating this initial interaction allows users to share the information needed for the agent to better serve them without requiring a human to ask for it. For example, Drift's website chatbot qualifies prospects and gathers their email addresses so a sales rep can follow up.
You can use your Chat and set a conversation that will take your customers to the sale. Using Chatbot Platforms that have predefined Templates you can easily set different goals skipping the work of building the questions, responses and so on.
4. Provide Unique Engagement With Customers
Traditionally, customer questions were routed to businesses via email or the telephone, which made user experiences fairly standard and non-customized. But chatbots offer a new, fun and interactive way to engage with brands.
One great example is Domino's Pizza's Twitter. Domino's allows customers to order pizza by simply sharing an emoji. The Domino's bots then route those orders and ask additional questions if necessary.
Another great chatbot example comes from Fandango. Unlike the days when you had to spend time sorting through Moviefone's options via its 1-800 number, you now go to Fandango's social profiles and leverage its chatbots to find movie times and theaters near you.
These seamless and memorable user experiences ensure that your users will think of your bots the next time they're looking for dinner and a movie.
Are you curious to learn more about social media chatbots? Fill in a bit of info below and someone from ConversioBot will reach out to discuss how to build Twitter and Facebook chatbots
Check out Conversiobot and use this tech for your Website
Setting Up An Efficient ChatBot
Eager to start creating your own chatbots? Who wouldn't be? Once you get beyond the initial fear of letting a bot assist you, the idea of creating and launching your own is exciting. Think of all the time you'll save for other activties.
When Starting as a New user of Bots, in some cases Plug'n'Play Bot Templates are available and all you need to do is fine-tune to your brand. Conversiobot once again offers great templates…
But, We'll walk you through the most important things to consider and the steps to walk through when getting started, if you decide to build your Bot from ground up.
1. Define Your Goal & Use Case
With such a wide spectrum of interesting use cases to choose from, it's tough to nail down a specific goal for chatbots. Spend time doing some discovery at the onset to define your goal and then start to craft your use case.
Are you looking to resolve customer service issues? Promote a new product? Or generate quality leads? In order to find out which use case will be most effective for you, chat with your website and social media teams.
Whatever the case, be mindful of what you'd like to accomplish as you begin to build out the experience. Like said earlier, having a platform that offers Bot Templates with different goals and niches can prove to be a gamechanger.
2. Choose Platforms to Leverage
Your chat conversations will differ based on the pages, networks and channels your programs live on. Consider your options:
Your website
Facebook Messenger
Twitter Direct Message
Someone coming to your homepage is likely more knowledgeable of your products than someone who gets to one of your blog posts, and your bots need to be programmed accordingly.
Gather as much information on your audience as possible, then use it to guide the questions you ask in step three.
3. Build Out Your Content Strategy
Next, figure out what content you'd like customers to engage with throughout the chatbot interaction.
Try starting with FAQs. Think about what questions customers are likely to ask your chatbot, that way you build out the proper flows to guide users to the best possible answer.
If you're unsure of the frequently asked questions, look internally to teams that interact with your customers.
Customer Service: Your customer service reps likely talk to your customers more than anyone else at your company. Ask them what trends they see in customer questions.
Sales: Your sales reps also chat a lot with prospects. Figure out what questions stop a user from converting to a customer.
Marketing: Your marketing team, and mostly your social media marketing team, will have insights on why individuals reach out to you on social channels. These questions are crucial for your social media chatbots.
Quora: Quora is a site where users can go to ask questions about anything, including your organization. See if there are any questions including your brand. If you see any trends in the questions being asked, you may want to consider adding them to your chatbot.
If you choose to be more creative and opt for a more marketing-focused experience, evaluate what existing content you have that best supports your goal before creating new content.
5. Write a Great Opening Message
The welcome message is incredibly important for engaging users and getting them to respond to your bot. The best opening messages we've seen are those that are compelling, set expectations and ask questions.
Be Compelling
Just because it's automated doesn't mean it has to sound robotic. Refer back to your bot personality and have fun with your message to get users to engage.
Set Expectations
First, let customers know they're chatting with a bot so they understand potential conversation limits. Second, let customers know how and when they will chat with a real person.
Ask Questions
Once you've hooked your audience, ask them questions that will keep the conversation going. Use the important questions you found in step No. 3 to make sure you're providing solutions to customer needs.
6. Start Mapping Customer Journeys
Once you ask the first round of questions, start mapping out what the conversation journey may look like. You can do this with a chat tool like Sprout Social, or if you're not quite there yet, start with building paths using shapes and arrows in Google Drawings.
This example looks at a fictional restaurant that needs to communicate things like store hours, specials and loyalty programs. Add all of the questions your user may want to ask you as possible replies they can click.
7. Find the Best Possible Responses
For each of the questions, you've asked, figure out the best responses users can choose. Create multiple responses for every question that you ask so you're more likely to satisfy the user's needs.
8. Build Out All Conversation Trees
Now for every question, you ask, and each response available for the user to choose, you must continue to build out the conversation. Some conversations may stop after one question, and some conversations may span multiple levels.
Spend time making sure that all conversations fully satisfy customer needs. When the conversation gets several layers deep, it may be time to push that user to a live representative.
9. Add Some Visual Components
Create more compelling messages by including emojis, images or animated GIFs to your chatbot conversation, even if it's just a wave hello!
Not only does media bring more personality to your messages, but it also helps reinforce the messages you send and increases conversation conversion rates.
10. Guide Customers to Checkout Using Call-To-Action Buttons
The chatbot interaction culminates with the call to action once a user has responded to all of your questions and is ready to move forward. Your call to action is a button you can add to your chatbot conversation to drive users to a specific goal.
Use call-to-action buttons to lead consumers to a specific product category or page on your website, to share their experience with a friend on social or directly to the checkout page. Your bot can be your most valuable conversion tool by pushing users to their final destination.
Think carefully about where you want your customers to land. This is important because the interaction with your brand could lead to high-value conversions at scale, without any manual sales assistance.
11. Test Your Conversations
As you can see, chatbot journeys can quickly become complex maps of conversation. In order to make sure that all users are finding valuable information, and not getting stuck or frustrated with your experience, make sure to test every single possible interaction.
Most chatbot platforms have live preview functionality, so you can test all of your flows without having to push your bot live.
12. Push Live & Monitor
Once you finished all of the above steps, you're ready to push your first chatbot live! Just make sure to monitor users as they interact with your bots to make sure there are no leaks in journeys or places individuals consistently get stuck.
Follow these 12 steps and you'll be well on your way to building a chatbot experience customers love.
You can Skip a great deal of these steps and just move on to customizing Bot Templates for your case. That again is why you need to get a platform that offers Templates.
Social Media Chatbots
You now have a better sense of how to create your own chatbots, but step one of that process raises an important question: how do you choose which platforms to leverage?
There are different platforms – Social Media or Website…
Website Chatbots
We've come a long way from the days of "live chat" on websites. These days chatbots are intelligent and capable of completing a host of different tasks. Everything from booking meetings with sales reps to pushing prospects further down the funnel with engaging content can be done.
There are so many Great Website Chat Platform. Drift is an Industry leading Platform with a Subscription based Model.
There is also ConversioBot which was made by a Marketer and structured in a way to allows small businesses and marketers to get the power of Niche Specific templates structured for various as well providing an exclusive Lifetime Access without the monthly fee.
What Can Chatbots Do?
Bots have the ability to make engaging with prospects and customers as seamless as possible.
Connect With Prospects and Customers
Chatbots are smart enough to know when a visitor opens a sales email and then visits a landing page. With the help of Drift and ConversioBot, sales and marketing teams can use chatbots to trigger conversations with prospects on their terms, when they need assistance the most.
Reduce Friction In the Sales Process
The purpose of chatbots is to make it easier for people to buy. Chatbots can be leveraged as a tool that replaces many of the steps in the typical B2B buying process, resulting in greater sales velocity and more closed deals.
Why Would Anyone Want a Bot On Their Website?
Being able to start a conversation with a chatbot at any time is appealing to many businesses who want to maximize engagement with website visitors. By always having someone "on call" to answer questions and book meetings with prospects, chatbots also make it easier to scale lead generation with little to no team at all.
Chatbot Examples
As you move forward with your plans, remember this isn't all about you. It's about creating a unique experience for your customers.
When deciding which chatbots to implement, it's important to understand your audience and evaluate the communication channels you use to connect with them. This will help you prioritize which types of chatbots you should implement and what messaging you should utilize.
This is where conversioBot comes into play as it structured around DFY tools so you can easily start getting results quickly even as a newbie while also allowing flexibility to Pro Users
Chatbot Apps
As you get excited to start creating your own walking, talking robots (maybe not the walking), here are some tools that can help you on your way. We've chosen chatbot tools that will satiate your social media, website and customer support ticket needs.
Chatbots Platforms like ConversioBot, Drift, LivePerson, Socicake, and Many Chat are great…
 Conversiobot?
ConversioBot is an "AI" Technology Transforming Virtually ANY Website Into An Automated Leads & Sales Machine.  It is a Tested Chatbot software that allows anyone to builds simple and Complex Bots as well as tailored Niche Templates and tools for marketers, business owners and service providers to deliver bots faster, easier and better. The best part is that in here is an oppurtunity to get conversioBot without the hassle of ever paying monthly fees again.