How To Generate Traffic to a Squeeze Page
Getting traffic to your squeeze page can be even more difficult than driving traffic to your regular site. The reason it's harder to do is because one-page websites such as your squeeze page, sales page, capture page, etc ranks very low on Google. Therefore, if you don't generate traffic to your squeeze page manually, chances are, there won't be any visits to your squeeze page at all.
In this article, I'll share the methods that helped me get a significant amount of traffic to my squeeze page at the beginning of my internet marketing career till date.
Paid squeeze page promotion
When it comes to paid promotion, some channels you may want to consider are:
Google AdWords is the largest network when it comes to paid advertising to millions of businesses investing in the search engine to host their ads.
This is how Google AdWords works: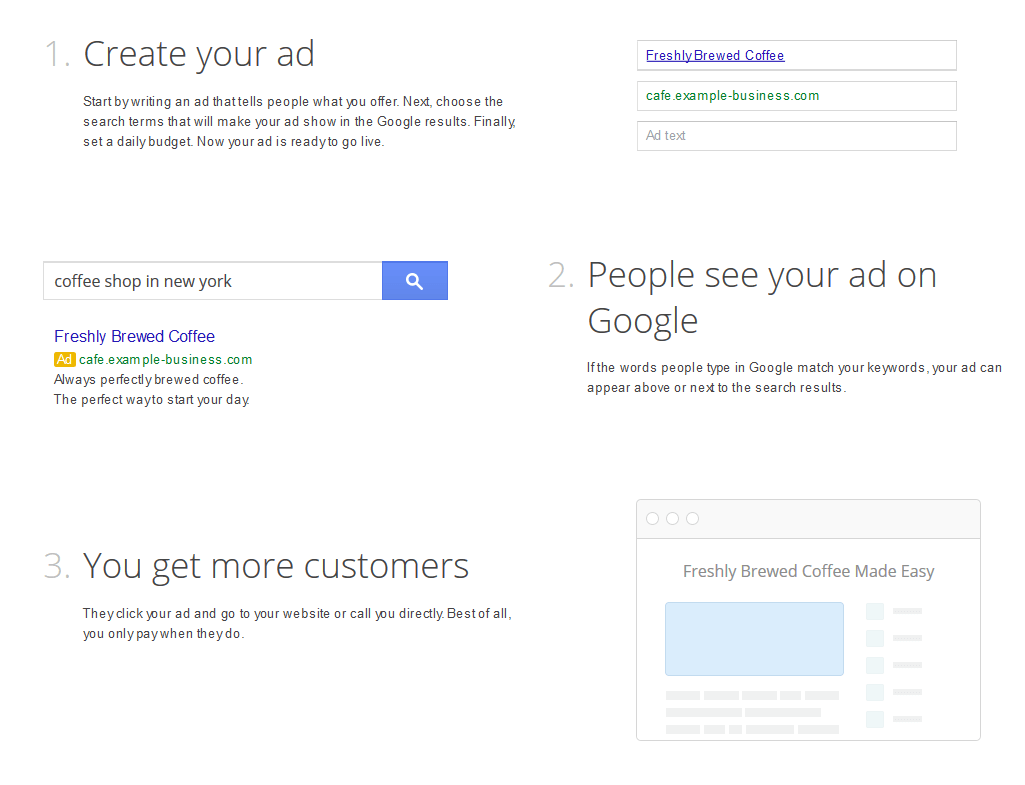 To start advertising with Google AdWords, brainstorm a list of keywords and keyword phrases your potential customers would use to locate your business on Google. Make sure these keywords are specific, use synonyms, and include alternate phrases that people may use to find you. These keywords are then organized into ad groups where advertisers can track the performance and modify settings.
Firstly you select your keyword, you then set the CPC (cost-per-click) bid for each keyword, which is the highest price you're willing to pay when a potential customer clicks on your ad. The higher you bid, the better chance your ad will have a high ranking on Google.
Keyword bids are not the only factor that determines ad rank. Your ad's ranking also depends on quality score, which takes into account the relevancy of your keywords in the ad, the landing page you attach to it, and how responsive the page is on different devices (desktop, mobile, tablet). It is important advertisers use message matching to achieve a high-quality score and best user experience. The combination of both your quality score and ad rank determine the ad's position on Google.
2. Twitter ads
Twitter ads help advertisers reach an even larger audience using their "promoted tweets" system. You can reach a specific audience of users with Twitter's targeting options that include keywords, interests, geography and more — driving the most qualified visitors to your landing page (in this case squeeze page).
Targeting specific keywords on Twitter is best for maximum exposure in promoted tweets, which can also be included in trending topics (but only if they are relevant) to your product or service.
Here's a snapshot of how Twitter ads work: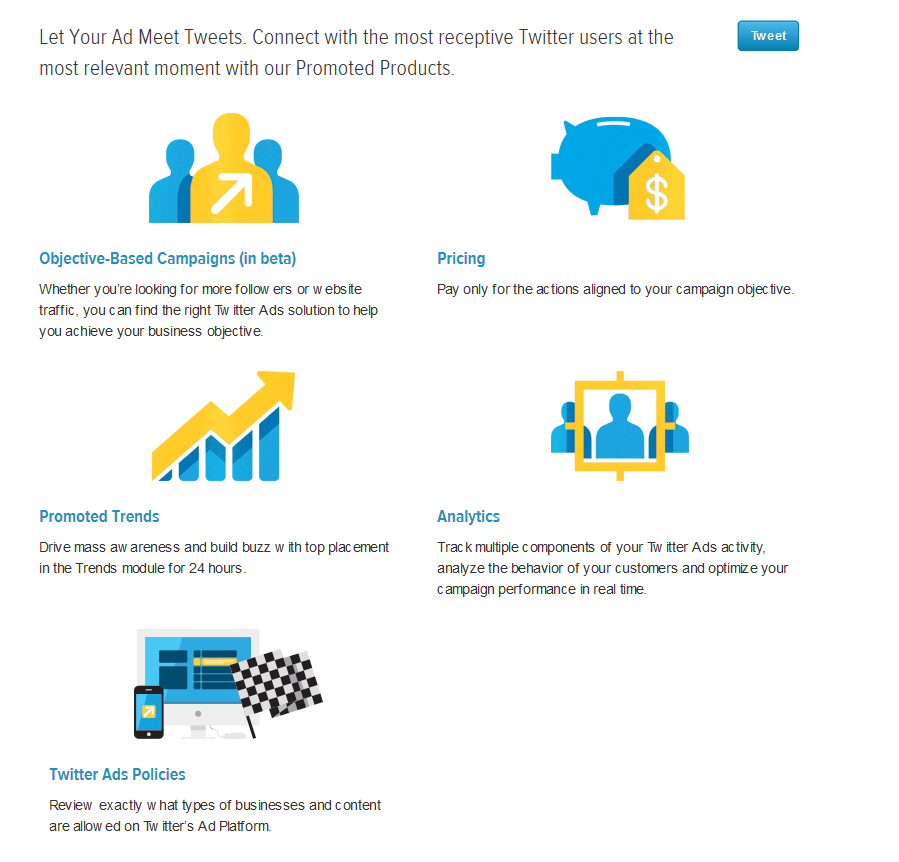 Businesses should focus on relevancy and accurate user targeting to maximize paid promotion. Learn about your potential customers' behavior patterns. Do they search the internet using Google or Yahoo? Do they spend more time on Facebook, Twitter, or LinkedIn? Once you know this information, you can make a more informed decision with your ads.
Choose your advertising platform (or platforms), set your PPC budget to a level you're comfortable with, and bid on keywords where appropriate. If you're not satisfied with your paid advertising results, you can always adjust your strategy accordingly.
3. Facebook ads
Facebook ads are an additional powerful way to reach your target audience because the social network allows you to segment your ads to users based on location, age, gender, interests, and more.
Here is how Facebook advertising is done:

In addition to the ads themselves, advertisers receive access to tools like ads exclusion targeting to better understand how their ads are performing as well as a host of analytics tools. Facebook offers these to advertisers so they can optimize their ad campaign and earn the highest ROI possible.
To start your Facebook ad campaign, advertisers establish a budget for their ads. Facebook uses an ads auction system where advertisers choose a bid amount to have their ad displayed to their specified segmented users. You then create your ads and connect those ads to your squeeze pages. Similar to Google AdWords and Bing ads, your Facebook ads should use message matching and use a relevant landing page (in this case a squeeze page).
Facebook's lead ads make lead generation easier for advertisers by automatically populating forms with users' contact information (e.g. name and email address).
3. LinkedIn ads
LinkedIn ads are different from Facebook and Twitter ads mainly because LinkedIn boasts the world's largest audience of active, influential business professionals. Like other advertising platforms; you can set your PPC budget and segment on a variety of user variables.
However, one of the most distinguishing factors is that LinkedIn does not operate based on keywords. Instead, ads are mainly displayed based on the PPC bid amount and variables chosen by the advertiser. If you're not satisfied with your ads' performance, you have the option to pause or stop campaigns.
Another feature that LinkedIn provides (that other networks don't) is precision B2B targeting. You can target your ads by job title and function, by industry and company size — even by seniority level. This feature is especially helpful for advertisers who know their ideal customer's job title and can target them accordingly.
LinkedIn ads also allow you to choose between text-only ads, text and image ads, and video ads: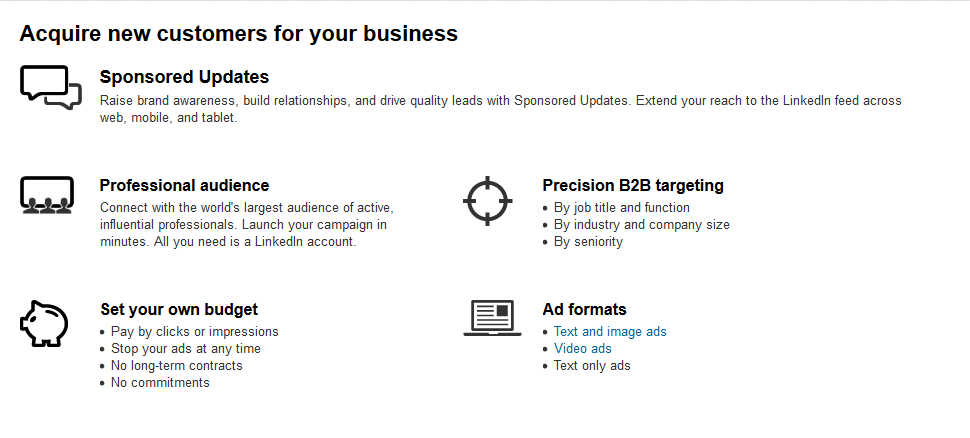 Yahoo and Bing Network ads operate in a very similar way to Google AdWords: Advertisers insert keywords, select a maximum bid amount, write the ads, and connect the ads to the destination page (landing page).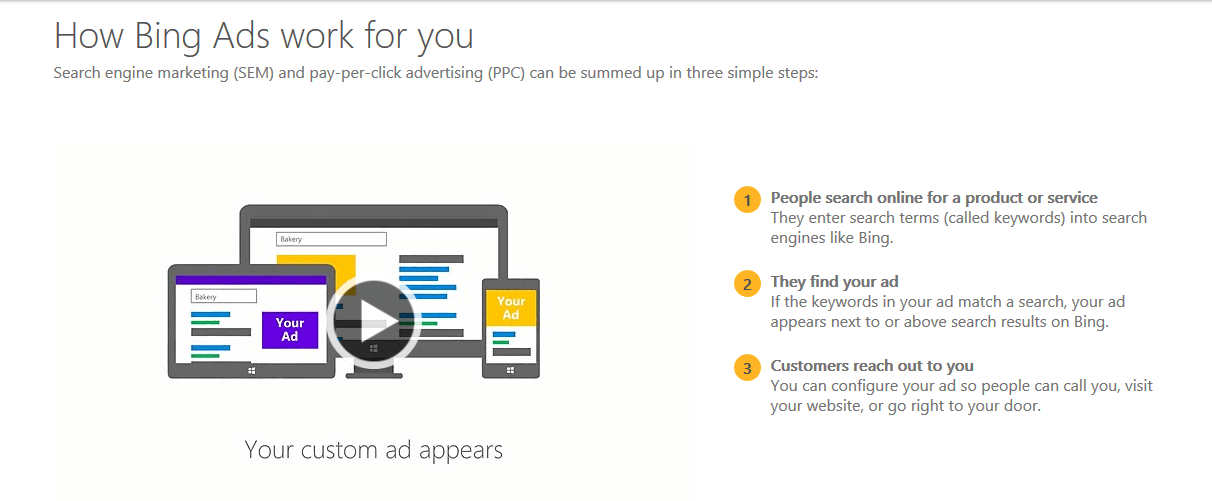 No matter your business type, Bing Ads can be a valuable tool for you to generate traffic. One distinct difference with Yahoo and Bing ads is there is no minimum budget required.
Another advantage of Bing Ads is the fact that you can easily import your Google AdWords account into Bing ads — making the setup process that much easier and faster to start generating traffic to your squeeze page.
Now in case you dont already have the financial resorces to invest in these paid ads, you can leverage on these other free traffic options below
Free (unpaid) squeeze page promotion
Not all squeeze page traffic needs to be paid. There are many options to get free traffic, although we will only highlight the following:
Engage with your potential customers on different platforms, participate in discussions, and provide links to your squeeze pages where they are relevant and helpful to the audience. This way they have a chance to learn more about you before entering their email address on your squeeze page.
You can also add a link to your squeeze page on your "About" page, like Sumo does:
Another popular way to feature your squeeze page is to put it as a popup on your main website — when your visitors are about leaving, an exit popup shows them your squeezepage. The visitor lands on your squeeze page and from there they have a choice to either enter their email address or select "No Thanks" and proceed.
Here you have them, the key ways you can drive huge traffic to your squeeze pages whether paid or free. Feel free to drop your comments if you have any suggestions or additions.